Blockbuster On Demand is a video streaming service started in 2013 that enables people with computers, tablet devices and smart phones to download an app and then stream movies to watch them nearly anywhere. The app is free of charge, and signing up for the service takes only about a minute to accomplish. The service appeals to people who are on the go and who don't want to pay a monthly fee for a streaming or rental services. Instead, with Blockbuster On Demand, they simply pay for each movie they watch for varying rates. Currently, the Blockbuster On Demand site indicates no TV programming is available for streaming rentals, although that likely will change. In the meantime, the Samsung Movies & TV Show service will enable streaming of TV shows on devices capable of supporting the separate Samsung service.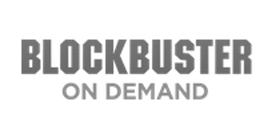 There are no contracts in place and no commitments when downloading the free app, and that can be very appealing to those who don't want constraints or commitments of any sort. Blockbuster On Demand is a separate service from the Blockbuster@Home and Blockbuster By Mail subscription services. Entertainment can be streamed at home for traditional television viewing, on Mac and PC computers, an iDevice or Android device, Roku player and Samsung Smart TV. The service offers thousands of recent hits and classic movies as well as new releases. Viewers can create a watch list by choosing the films they want to see with the ratings service Rotten Tomatoes available to help provide info on the ones they most might want to watch.
Audio is streamed with full Surround Sound technology to enable home entertainment systems that also feature Surround Sound. The thousands of films are presented in 1080p high definition, and new movies are added every day. The annual cost of using Blockbuster On Demand can run about $180 when streaming about five movies per month and about $360 per year when streaming 10 movies per month. The savings over attending movies at theaters is where the big cost advantage comes in, and people don't have to wait up to several months for popular new DVD releases to become available for rental like with many DVD rental plans. Another advantage is the ability to watch programming on mobile phones, tablets and other devices, which could keep children quiet on long trips or provide entertainment on a rainy day while camping. There is no indication of a waiting period for new releases to be available as is the case with many DVD rental plans. In those instances, people cannot rent DVDs for up to a month after their initial release in retail stores in an effort to keep DVD sales higher for the companies that release them. Another advantage of streaming films is the consistent quality, which does not degrade as can occur with DVDs that many times develop scratches, cracks and bad spots.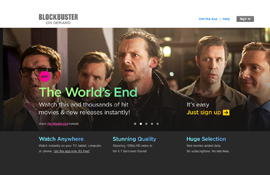 The Blockbuster On Demand service came about soon after DISH Network purchased the struggling Blockbuster store rental chain and its other businesses, including the Blockbuster@Home rental service. Blockbuster@Home no longer exists after attempting to go head to head with Netflix, but the potential for the Blockbuster On Demand service is very promising. With its multi-device mobile compatibility, Blockbuster On Demand has the potential to be a success. Much like when TV mogul Ted Turner purchased the entire library of MGM Studios to provide programming for his cable television stations, DISH Network's purchase of Blockbuster and development of Blockbuster On Demand provides a strong potential for success on mobile devices as well as at-home movie watchers.
With the eventual addition of TV show streaming, Blockbuster On Demand could prove to be a winner. The ability to stream hit movies and old classics and the likely addition of TV programming for all users as well as Samsung's current selection of television programming makes Blockbuster On Demand a strong bet for success. Because you only pay for what you view and nothing else, the service will appeal to many people who don't watch a lot of rented programming and don't want to be tied to a monthly payment due to contractual agreements. Instead, Blockbuster On Demand offers the freedom of mobility and choice for consumers who want to pay for entertainment only when they use it and not when they don't. Business travelers also will find the service appealing for long flights and business trips as will families with children.
Overall Ranking: 7.4/10
Homepage: www.blockbusternow.com