Initially released as the Android Market in October of 2008, the service was reformatted – to incorporate a wider variety of features and options – as Google Play in March 2012. The Movie and TV show feature was added to the service in September 2011.This feature of Google Play provides a user access to a wide variety of content that can be directly streamed to a device, or downloaded for later off-line viewing, making visual entertainment available anywhere at any time. The service is ideal for the user who has multiple devices where they wish to purchase and sync visual media, the user who is looking for a service to a variety of rented and/or purchased programming, and the user who is looking to watch downloaded content when not connected to the Internet.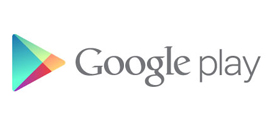 There are a wide variety of both films and television programs available on the Movies & TV feature of Google Play. There are 16 categories of films, each containing anywhere from 34 to 550 films. Even with a certain amount of cross listing, this means that the feature renders access to thousands of films in just the Top Rated categories, ranging from Comedies to Dramas, Music extravaganzas to World Cinema offerings.
Television programs are also available through Google Play. The 7 categories of programming range from Action and Adventure to Documentaries, with the Reality and Game Show category containing the most selections at more than 400 programs. The search feature allows discovery by series, by season, and by episode number.
Films are available for purchase or rental. Although some movies can only be bought, these appear to be limited to new releases. Prices for renting the movies range from $1.99 to $6.99, and purchase prices range from $4.99 to $18.99, with the highest priced offerings tending to also be new releases. The service consistently offers special where titles can be bought for special low prices, including new releases and season specific sales, like Holiday and Year End deals. In the television section of Google Play, there is a good selection of current TV programs, as well as older offerings. Episodes are priced from $1.99 to $2.99, with each category featuring a small number of free selections. Full seasons are available to purchase from $7.49 for 4 episodes, to $34.99 for top rated current shows. Special pricing is consistently available through sales and featured programs in specific categories.
Google Play runs on a variety of platforms, including but not limited to Google's own devices – Google TVs, Nexus smartphones and tablets, Chromebooks, and through Chromecast onto an HDTV; the service is also available on non-Google products such Android devices, other iOS gadgets, the e-readers Kindle and Nook, and laptop and desktop computers.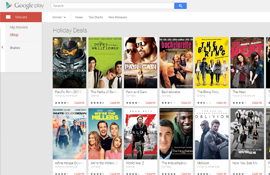 Google Play's Movie rental and purchase feature, as of November 2013, was available in 28 countries, including such remote destinations as Fiji and Nepal. The TV show feature is much less widely available; TV programming can only be purchased and downloaded in Japan, the United Kingdom, and the United States. Google Play is similar to the many other services that allow the purchasing and/or streaming of films and television content. However, there are some interesting aspects of the service that make it well work looking into. First, it offers a way to access a small selection of Bollywood films – in Hindi with English subtitles – that may not be available anywhere else. Similarly, the World Cinema category contains a variety of international films – many of them in Spanish, French, Italian and Japanese with English subtitles.
While the TV portion of Google Play seems to be overloaded with reality and game show offerings, it also has many popular American television shows from the last several years. There are more limited offerings from Britain, although the most popular here can be found as well, including Dr. Who, Downton Abbey, Top Gear, and In the Flesh.
In general, Google Play's Movie and TV feature offers an easy to use, versatile, and reliable way to access streaming video content on the go, or to download and watch offline. Its interface is reasonably well organized, and although the categorizations contains cross listings and non-intuitive pairings, with a little creativity and thought it is reasonably straightforward to locate the right content. The prices are competitive with other such services, selections offer both Standard and High Definition options, and all material is normally stored in the Google Cloud player, thus only taking up space in a device when the user chooses to download.
Overall Ranking: 7.8/10
Homepage: play.google.com/store/movies